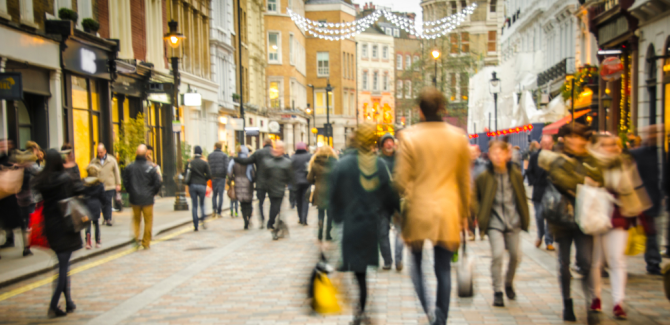 Making an impact: EL Lottery retail experts discuss latest developments
Retail has no doubt changed over the years with a significant impact on lottery operations during the pandemic. Lotteries have learnt to adapt quickly to changing circumstances and at the same time keep up with the latest developments to retain existing players and attract new ones.
This year's EL Retail Seminar in Basel, hosted by EL member Swisslos, was a chance to unravel the latest trends and developments. Speakers from inside and outside the lottery sector guided participants through the world of retail from shopping to food and from responsible gaming to sports betting. They touched upon important topics such as customer service and business retail journeys and the future of lottery retail in turbulent times. 
From adapting to changing customer behaviour to navigating your retail journey
Two inspiring Keynote speakers shared their insights and expertise.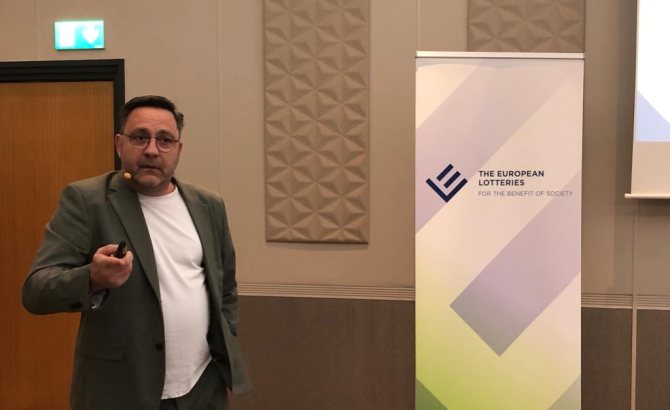 Jorg Snoeck, aka Captain of Retail, founder of RetailDetail, and award-winning author of the book 'The Future of Shopping', shared his personal on a challenging and rapidly changing retail landscape.
Gillian Maxwell, entrepreneur and former Director of Flying Tiger Ireland highlighted her own retail journey. Over a six year period, together with her husband, they grew the Danish Flying Tiger brand to a chain of 28 stores in Ireland, employing over 400 people and with a turnover in excess of €16million. Gillian took participants on her journey of developing and expanding a retail chain, sharing the insights and lessons learned along the way.
The changing nature of retail from the lottery perspective 
EL Lottery members brought their own expertise and experiences to the Seminar. Pieter DE TANT, Head of Lottery Shops, Loterie Nationale, Belgium explained the reasons and thoughts behind the important evolution of the flagship stores of the Belgian National Lottery. He showed the transformation and further development from old fashioned reginal hubs to modern and leading stores. The store in Brussels is also used to do the weekly lotto draws, attracting lots of interested players and public.
Sabine TUFFAL, Head of Payment Services, Française des Jeux, France outlined the diversification of PoS activities for the French national lottery, identifying payment services as a virtuous axis of diversification serving both core business and retail network interests as well as the broader public. The payment services are being further developed also as a service for other organisations then the French State. The goal is to become France's first ''proximity payment network'' 'said Sabine. 
From the optimisation of existing channels to new points of distribution, Ronan NEARY, National Account Director, Premier Lotteries Ireland guided participants through the lottery's journey since transitioning from public to private lottery operation back in 2014 and showcased some of the key developments within Irish grocery retail at Aldi and Lidl. ''It's all about being open, ambitious, generous and reliable''. 
Retail took a significant hit during the pandemic with partial or even full closures of PoS across Europe. The online channel was developed as a safe alternative for players. However, despite years of decline, lottery retail has improved greatly, even above pre-COVID levels. Václav ŠTĚPÁN, International Relations, SAZKA, a.s., Czech Republic & Executive Chair of EL Data & Research Working Group highlighted key facts and trends from the recent EL Report 2021 and presented separately SAZKA's retail innovations in the Czech Republic with new kiosks and an intelligent AI-model where to place and replace lottery terminals.  
Ilias KATSAROS, Chief Retail Officer, OPAP S.A. Greece focused on describing OPAP's unique retail network of 3,500 stores where half of the adult Greek customers stop by multiple times every year, and on how to engage these customers by offering social and digital experiences and maximise their fun and spending in the stores. ''We live in a world where everything that used to be normal is changing. Yesterday's challenges are today's opportunities. Lotteries need to be resilient, offering unique & digital experiences while at the same time benefiting society.''
The Suppliers perspective - How lotteries should adapt to a changing retail landscape
EL Level 1 Partners Scientific Games and IGT contributed with two insightful presentations.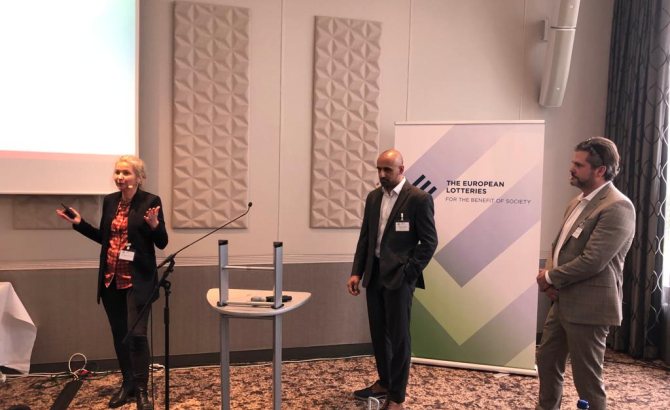 Liga MAGDALENOKA-KEEN, Harpreet GARCHA, and Mattias BLOMQUIST from Scientific Games highlighted the importance of knowing your retailer. By sharing insights of research among retailers all around Europe, Scientific Games is able to support the needs of the EL Members here. An insightfull example of the development of hybrid (phygital) instant games was shown to link between retail and digital. 
Sharon DUNCALF from IGT emphasised that the growth of online shopping has undoubtedly disrupted bricks-and-mortar retail, accelerated by the pandemic.  But technology has also helped inspire retailers to increase the overlap between online and physical environments. Working with the Foresight Factory, her presentation considered what the future of shopping looks like for retailers and consumers, and the role of lottery within that.
EL Associate members also brought their expertise to the table. David ROY, VP International Business Development, Carmanah Signs, UK, focused on how to leverage digital innovation in order to accelerate lottery sales in retail. He presented examples of the suppliers' latest Digital & Jackpot Signage solutions deployed with lottery operators around the world, sharing best practices to optimise player engagement and drive incremental sales in retail environments.
Edwin VAN ZON, Sales Director, Abacus, UK talked about the retail opportunities for lotteries, emphasising the importance to adapt, especially also in the world of in-lane sales by Lotteries. In his words ''it is time to change the lottery landscape, particularly as customers look for omni-channel offerings and convenience''.
The importance of retail and responsible gaming
EL & its Members believe in a high level of consumer protection &  responsible gaming as a priority over other interests. From communication and awareness such as RG ambassadors, self-exclusion (player card and player's tax numbers), training such as online lessons and live sessions and review/monitoring (e.g. mystery shopping and external auditors), there is a strong link between retail and responsible gaming. Mélissa JACQUÉRIOZ, EL Senior CSR, Data & Membership Officer presented an European overview of several best practices on the topic. 
The seminar, which was moderated by Arjan van 't Veer, EL Secretary General, and hosted by EL Member Swisslos, was well received and gave a good opportunity to network and discuss the developments.