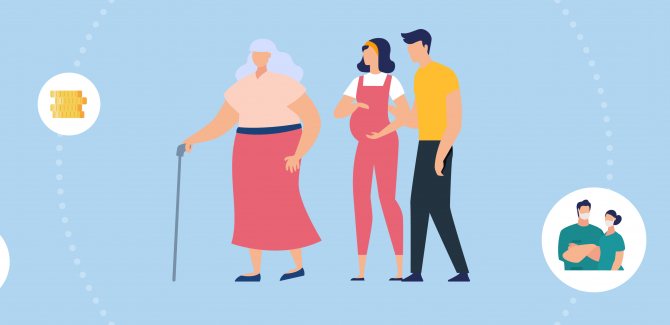 EL Members support society during Covid-19
Since the start of the COVID-19 pandemic, EL Members across Europe have been instrumental in supporting local communities – from offering relief and funding medical equipment to the creation of emergency funds and welfare aid. This upholds national lotteries' historic support and benefit to society in times of need.
Austria
Austrian Lotteries 
Supports the efforts of the federal government to stop the coronavirus by launching the initiative wirtragenmaske.at ("we wear masks"). Through this, the Austrian Lotteries and Casinos Austria, wants to shine a light on the importance of wearing masks. 
Belgium
Loterie National Belgium 
Financially supports many projects to fight COVID-19 such as support to frontline medical workers and the  implementation of emergency measures to protect people who have no housing during the crisis. The lottery has also given a lot of visibility to the actions of partners against COVID-19 in a vlog campaign on social media & national television - FR - NL. 
Czech Republic
SAZKA A.S. 
France
Francaise des Jeux 
Company agreement allowing employees to donate time off to reduce costs and support hospitals. These initiatives raised €400,000 and €300,000 respectively. More information.
Donation of €1m to the alliance "Tous unis contre le virus", which was launched by the Fondation de France in association with the Pasteur Institute and Public Assistance - Hospitals of Paris (AP-HP) in order to curb the spread of COVID-19.  The money will go towards caregivers, research and support for the most disadvantaged.
The Corporate Foundation responded to a call from Secours Populaire Français with a €200,000 donation. This charitable organisation has an urgent need to maintain the assistance it provides to the most vulnerable, in particular by delivering daily essential supplies to the elderly in their homes.
FYROM
National Lottery of Macedonia
The Red Cross, with financial support from the Lottery of Macedonia, will deliver humanitarian aid to the vulnerable and elderly. The donation from the State Lottery is equivalent to Ден700,000, which will be used to buy hygiene products such as hand sanitizer gel, home disinfectant, antibacterial wet wipes, as well as masks and gloves. 
Germany
Staatliche Lotterieverwaltung (Lotto Bayern) 
Aid package of €3.5m for its operators that ran into difficulties due to the crisis. This solidarity fund is intended to help operators to better withstand difficult economic conditions.
 
Land Brandenburg Lotto 
Supports "Hilfe für Familien in Not" ("Help for families in need") with a donation of €5,000. The Foundation specialises in financial support to families in need and to expectant mothers. Lotto Brandebnburg has been a sponsor of the Foundation for years.
 
Lotto-Toto GMBH Sachsen-Anhalt 
17 non-profit associations & Associations in Saxony-Anhalt affected by COVID-19 will receive financial donations from the Lotto Aid Fund. Of approximately 160 applications received within a month, 33 have now been approved. So far, a total of 102,250 EUR of the 1,000,000 EUR available in the Lotto Aid Fund have been allocated.
Westdeutsche Lotterie
Devolves 40% of all wins to sports clubs and gyms in North Rhine-Westphalia which are organising online exercice classes in COVID-19 times.
Support to the North Rhine-Westphalia Red Cross and has echoed its campaign to promote the use of protective masks.
Supports artists during the crisis - Westlotto has asked various professional cultural workers based in NRW to produce an exclusive clip for a fee, which will be made available to the public via their social media. Most of the clips have a reference to the current situation, either in the selection or in the implementation of the theme. Westlotto aims to support the artists and at the same time contribute to the preservation of the vibrant art and cultural landscape in NRW so that they can enjoy it to the full after the crisis.
Greece
OPAP S.A. 
Actively supporting the public health system through:
• Renovation of Children's Hospital 
• Provision of essential health care materials
• Disposal of health mobile units to the public health system
• "Doctor AnyTime"" platform, a partner of OPAP in the disposal of the public.
• Create and connect social media content with the nationwide "Stay Home" effort
Ireland
Premier Lotteries Ireland 
Italy
Lottomatica 
Together with the organisation Sport Senza Frontiere ("Sport Without Borders"), Lottomatica created the project "Joyprint" to involve children and teenagers in summer camps in Rome, Naples, Milan, Turin, Bergamo and Rieti. Participants, who will be more than 400, mostly come from families with troubled backgrounds - a group that was particularly hit by the Covid-19 crisis. 
SISAL S.P.A. 
Activated a fundraising campaign in favour of the "Civil Protection" organisation through its sales network, not tied to any form of gambling. Voluntary donations were also made to "Civil Protection", charitable organisations and hospitals in the Lombardy region.
Poland
Totalizator Sportowy 
Portugal 
Santa Casa da Misericordia de Lisboa 
Distributes food baskets to the most disadvantaged. Around 1,200 families benefit from this support programme every month. This initiative was, among others, highlighted by pan-European TV channel Euronews.
 
Organised the Santa Casa Challenge, to find innovative digital solutions to respond to the specific needs of elderly people in social isolation in institutions or at home in times of Covid-19. Out of the 74 national & international applications, two of the submitted projects won a 25,000 euros prize and will also be able to launch their pilot project.
 
A series of videos (EN version) aunched to show how their mission does not stop during Covid-19. Under the slogan "Somos a Casa de Milhares de Portugueses" ("We are a home for thousands of Portuguese"), SCML shows how they continue to take care of those who need them the most. 
Slovakia
TIPOS
Spain
ONCE 
SELAE 
Continues to help people affected by Covid-19. Through its support for the Spanish Red Cross, 1,000 digital tablets have been provided to vulnerable children, guaranteeing their access to education during these troubled times.
Switzerland
Société de la Loterie de la Suisse Romande 
Supports the Fondation Mère Sofia who is helping those in need during the COVID-19 epidemic by serving 700 meals every day.
Due to financial difficulties caused by the cancellation or postponement of events, the Neuchâtel Commission for the Distribution of Profits of the Loterie Romande assured the organisers of its support. It has decided to pay the beneficiaries the full amount granted, even in the event of cancellation, reductions or postponements. More information.
Supports the Fondation Perceval which focuses its efforts on sheltering, schooling an training children and adults with disabilities. Thanks to the Loterie Romande, the foundation was able to create a training room, refurbish a building and build studios.
United Kingdom
Camelot UK Lotteries