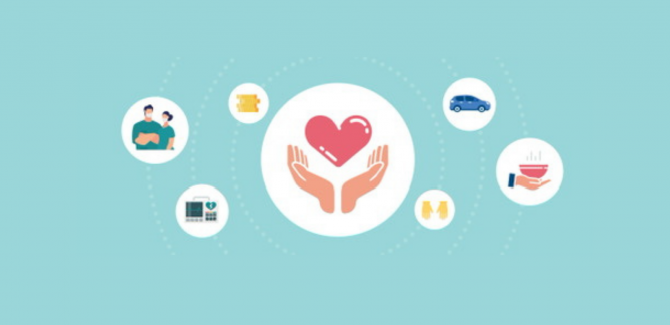 EL Members support society during Covid-19
Since the start of the COVID-19 pandemic, EL Members across Europe have been instrumental in supporting local communities – from offering relief and funding medical equipment to the creation of emergency funds and welfare aid. This upholds national lotteries' historic support and benefit to society in times of need.
Austria
Austrian Lotteries 
Supports the efforts of the federal government to stop the coronavirus by launching the initiative wirtragenmaske.at ("we wear masks"). Through this, the Austrian Lotteries and Casinos Austria, wants to shine a light on the importance of wearing masks. 
Belgium
Loterie National Belgium 
Financially supports many projects to fight COVID-19 such as support to frontline medical workers and the  implementation of emergency measures to protect people who have no housing during the crisis. The lottery has also given a lot of visibility to the actions of partners against COVID-19 in a vlog campaign on social media & national television - FR - NL. 
France
Francaise des Jeux 
Company agreement allowing employees to donate time off to reduce costs and support hospitals. These initiatives raised €400,000 and €300,000 respectively. More information.
Donation of €1m to the alliance "Tous unis contre le virus", which was launched by the Fondation de France in association with the Pasteur Institute and Public Assistance - Hospitals of Paris (AP-HP) in order to curb the spread of COVID-19.  The money will go towards caregivers, research and support for the most disadvantaged.
The Corporate Foundation responded to a call from Secours Populaire Français with a €200,000 donation. This charitable organisation has an urgent need to maintain the assistance it provides to the most vulnerable, in particular by delivering daily essential supplies to the elderly in their homes.

FDJ continues with their "Égalité des chances" (Equal opportunities) programme despite the obstacles from Covid-19. Accompanying with Adie, a French non-profit organisation providing wide access to credit, FDJ offered a solution to the ''I build my project'' campaign by doing the seminar online. The project aims to offer solutions and advice to young entrepreneurs and their businesses. 
Germany
Staatliche Lotterieverwaltung (Lotto Bayern) 
Aid package of €3.5m for its operators that ran into difficulties due to the crisis. This solidarity fund is intended to help operators to better withstand difficult economic conditions.
 
Land Brandenburg Lotto 
Supports "Hilfe für Familien in Not" ("Help for families in need") with a donation of €5,000. The Foundation specialises in financial support to families in need and to expectant mothers. Lotto Brandebnburg has been a sponsor of the Foundation for years.
 
Lotto-Toto GMBH Sachsen-Anhalt 
17 non-profit associations & Associations in Saxony-Anhalt affected by COVID-19 will receive financial donations from the Lotto Aid Fund. Of approximately 160 applications received within a month, 33 have now been approved. So far, a total of 102,250 EUR of the 1,000,000 EUR available in the Lotto Aid Fund have been allocated.
Westdeutsche Lotterie
Devolves 40% of all wins to sports clubs and gyms in North Rhine-Westphalia which are organising online exercice classes in COVID-19 times.
Support to the North Rhine-Westphalia Red Cross and has echoed its campaign to promote the use of protective masks.
Supports artists during the crisis - Westlotto has asked various professional cultural workers based in NRW to produce an exclusive clip for a fee, which will be made available to the public via their social media. Most of the clips have a reference to the current situation, either in the selection or in the implementation of the theme. Westlotto aims to support the artists and at the same time contribute to the preservation of the vibrant art and cultural landscape in NRW so that they can enjoy it to the full after the crisis.
Greece
OPAP S.A. 
OPAP Actively Supports the Public Health System and develops new initiatives, in a period with increased demands. The company proceeded to the following specific actions:

Continued the renovation of Pediatric Hospitals, delivering during the pandemic, the Ophthalmology and ENT Nursing Unit of the "Panagiotis and Aglaia Kyriakou" Hospital and the Cardiology Unit of "Aghia Sophia" Hospital, completely renovated and modernized

Donated 500,000 masks for the healthcare personnel in three referral public hospitals

Donated hemodynamic monitors for the monitoring of vital body parts and one vital parameters monitor for use in Intensive Care Units (ICUs), surgeries and hospital wards among other facilities to the "Panagiotis & Aglaia Kyriacou" hospital

As demonstrated by the COVID-19 pandemic, strong support to nursing homes is critical to protect both residents and healthcare personnel. In this framework, OPAP proceeded to the donation of thousands gloves and protective masks , which cover the urgent needs of social welfare institutions for the elderly across Greece, indicated by the Ministry of Labor and Social Affairs.

During the first lockdown and in the context of the health prevention 'OPAP in the Neighborhood' program, OPAP with the collaborating NGO (The Smile of the Child) offered the mobile units of the program, for the disposal of the health system

As coronavirus cases increased exponentially during the second wave of the pandemic, OPAP acted promptly and donated medical equipment that the Ippokrateio - Hospital of Thessaloniki needed urgently (1 mobile radiological unit, 3 mobile ventilators, 2 defibrillators, a mobile ultrasound machine and 8 Hi flow nasal cannulas for intubation)

OPAP donated hygiene material to cover the needs of Municipality of Thessaloniki and Thessaloniki Police Force, as this specific city has been significantly affected by COVID-19

Supporting the business world, OPAP offered support to the small-medium companies that participate in 'OPAP Forward' program to address the challenges brought by the pandemic and also recruited in the program companies that have helped the Public Health System through their actions.

Developed the first and only platform in Greece, "Sport Academies Online", fully dedicated to young athletes, their parents and academy owners and coaches. Through the platform a team of psychologists, nutritionists, pediatricians, coaches and trainers have an open channel of communication with parents and children of the program that is very useful, especially during lockdown.
Hungary
Szerencsejáték Zrt. 
The national lottery company provided HUF 50 million in support to the Ecumenical Relief Organization. 500 families in need received an immediate crisis package as part of the donation, which included food and hygiene products, while the amount donated by the Hungarian Lotteries also supported the summer camping and development of 600 children living in difficult conditions across the country 

More information

.

Szerencsejáték Zrt. provided HUF 50 million each to three Hungarian hospitals responsible for the care of coronavirus patients. The amount offered was used by the institutions to purchase individual equipment and devices that would effectively help further epidemiological defence efforts. 

More information

.

Szerencsejáték Zrt. has developed a network protection and development program containing more than HUF 5 billion in extra bonus commission to help its sales network partners who were hard hit by the coronavirus pandemic, asking in return that that they preserve jobs and increase service quality levels. 

More information

.

 
Ireland
Premier Lotteries Ireland 
In 2020, the Irish National Lottery has transferred over €254m to the Good Causes project which aims to support areas such as sport and recreation, culture and heritage, community health, the arts, and youth welfare. This expenditure will take place on such projects in 2021.
€16m of Irish National Lottery unclaimed prize money will go to good causes to be used to support the health sector in efforts against COVID-19.
Italy
Lottomatica 
Together with the organisation Sport Senza Frontiere ("Sport Without Borders"), Lottomatica created the project "Joyprint" to involve children and teenagers in summer camps in Rome, Naples, Milan, Turin, Bergamo and Rieti. Participants, who will be more than 400, mostly come from families with troubled backgrounds - a group that was particularly hit by the Covid-19 crisis. 
SISAL S.P.A. 
Activated a fundraising campaign in favour of the "Civil Protection" organisation through its sales network, not tied to any form of gambling. Voluntary donations were also made to "Civil Protection", charitable organisations and hospitals in the Lombardy region.
Latvia
Latvijas Loto
At the end of last year, the employees of Latvijas Loto supported the family association Dēkla with donations from private funds. Due to the pandemic, donations was especially needed in 2020. 
North Macedonia
National Lottery  
Instant Lottery in humanitarian action with the sub-brand "Happiness plus". Aim of the long term project is to show constant care by providing vitamins and supplements for people in need - to help vulnerable and elderly to overcome the coldest period of the year and fight against Covid-19. The total donation is expected to get 30.000 euros. The action is developed and realized by an internal Lottery team and the Red Cross. Winter-spring 2020/2021

Donation to the National Ministry of Health – support to their resources in the struggle against Covid-19, amount of 

мкд12.

000.

000 (equivalent to 200.000 euro).
For the fundraising purposes for Covid-19, we reallocated an amount of  71.000 euro, from the ongoing (a yearlong) winning game that we organized with the Ministry of Finance.
The Red Cross with financial support from the National Lottery, delivered humanitarian aid to the vulnerable and elderly. The donation of мкд700.000 (equivalent to 11.000 euro), was used for purchasing hygiene products such as hand sanitizer gel, home disinfectant, 

antibacterial wet wipes, as well as masks and gloves. 

 
Norway
Norsk Tipping AB
Norsk Tipping has been involved in "Grasrotandelen", a programme which aims to support grassroots associations in sports, social, and cultural areas. Norsk Tipping generated 714 million NOK (approximately €68.9 million) in 2020, a year when grassroots organisations where especially affected.
Poland
Totalizator Sportowy 
Portugal 
Santa Casa da Misericordia de Lisboa 
SCML has together with the City Council of Lisbon and Social Security offered to provide daycare services for children whose parents can't work from home.
Distributes food baskets to the most disadvantaged. Around 1,200 families benefit from this support programme every month. This initiative was, among others, highlighted by pan-European TV channel Euronews.
 
Organised the Santa Casa Challenge, to find innovative digital solutions to respond to the specific needs of elderly people in social isolation in institutions or at home in times of Covid-19. Out of the 74 national & international applications, two of the submitted projects won a 25,000 euros prize and will also be able to launch their pilot project.
 
A series of videos (EN version) aunched to show how their mission does not stop during Covid-19. Under the slogan "Somos a Casa de Milhares de Portugueses" ("We are a home for thousands of Portuguese"), SCML shows how they continue to take care of those who need them the most. 
Slovakia
TIPOS
Spain
ONCE 
President of ONCE, Miguel Carballeda, discussed improving employment for people with disabilities within the framework of the post-pandemic reconstruction process with the Spanish government.
Set up a programme called "You're not alone" to support people with chronic diseases during the Covid-19 crisis. The programme consisted of delivering food and medical equipment to people who were unable to reach hospitals and medical centres autonomously. The programme was based on 250 actions and involved a record number of local volunteers.
Two teachers from the ONCE Educational Care Team in Cádiz have launched an initiative to stimulate blind & visually impaired students & make them aware of the importance of social distancing & the use of masks. They do so by asking their pupils to record themselves on their mobiles phones, dressed up as superheroes members of the ONCE patrol fighting the coronavirus. 
Supports "La Caixa" Foundation, which is raising funds to support food banks in Spain during the crisis. The project has already raised more than 1 million EUR. 
Supports school teachers who help visually impaired students (age 8 to 12) in Salamanca. These activities focus on self-esteem and positive group attitude during the confinement period.
Based on an initiative of the ONCE Foundation, blind and visually impaired kids from the area of Jaén (Andalusia) have sent videos of encouragement to support the residents of the "Sebastián Estepa Llaurens" nursing home during this confinement period.
The volunteering staff of ONCE Foundation has increased by 120% since the start of Spain's lockdown. So far, 781 volunteers have been involved in supporting people with disabilities navigate everyday life during confinement.
ONCE has reached virtually all of their blind & deaf-blind elders to ensure their needs through social workers, psychologists, other professionals or volunteers; teachers are assisting so that their blind students do not lose pace at home; the ONCE Foundation has generated volunteer initiatives that are supporting people with reduced mobility living in isolated locations; the ONCE Social Group are using their 3D printers to produce masks and respirators for hospitals; and their schools and hotels are offered and converted into medicalised residences to collaborate in the decongestion of hospitals for the care of the COVID-19 patients. More information.
Together with experts, ONCE will host webinars that focus on the 90 million people living with disabilities to provide them with the tools to face the situation under equal conditions. Employment, social protection, access to health services, protection measures against the coronavirus, strategies for confinement and community support networks are some of the issues that will be discussed.
The President of ONCE Grupo Social, Miguel Carballeda, spoke to King Felipe VI and Doña Letizia, on what ONCE was doing to support its 72,000 members, and the special attention paid to people who are blind and/or deaf who have to stay at home.
ONCE Social Group president Miguel Carballeda urged Spanish and European public authorities to actively support people with disabilities in light of the health and economic crisis caused by Covid-19. Last year ONCE Social Group signed an agreement with the European Parliament in order to show the work ONCE has been doing for years at EU level to improve the life of the 80 million European citizens with disabilities.
SELAE 
Since the beginning of the pandemic in early 2020, SELAE has been responding to the COVID-19 tragedycontributing over 13 million of euros to Red Cross, Caritas (Non-profit organization dedicated to the assistance, development and social service  of the most vulnerable and disadvantaged social group) and the Spanish Association against Cancer programs.

The impact of the elderly on the pandemic has been significant. SELAE has supported the Red Cross and Caritas elderly care programmes. The programmes provided food and meals, health material, medicines and accompaniment, helping more than 260,000 elderly

SELAE joins the Red Cross and Caritas programs to respond to the needs of people vulnerable to the coronavirus in Spain. Thanks to help of SELAE, nearly 307,000 people will receive food, meals, care and social support, as well as a place to sleep.

SELAE has Supported disabled people programmes through Caritas and Red Cross. The aim is provide quality care to those who are unable to care for themselves due to their unfortunate disabilities during Covid. With this program  has been  helped to 22.272 persons. 

Programme 'Red Cross Listens to You', to offer psychosocial support to more than 77,822 people in front of COVID-19.

SELAE has helped more than 8700 women through programmes to support women in social difficulty situations.

The Covid-19 health crisis is causing an emergency for cancer patients. SELAE has financed programmes for the psychological, social and health care of cancer patients. Helping more than 2,400 patients.

 

Information phone "Infocancer service" of the Spanish Association against Cancer is financially supported by SELAE
Sweden
Svenska Spel
The board has proposed an additional SEK 3.2 billion (€310m) dividend to be paid to the Swedish government, to assist emergency services in the fight against the COVID-19 pandemic. 
Svenska Spel will financially back the Swedish Sports Confederation's programme that aims to support different sports federations. The goal is to facilitate the participation in sports and other active activities during the pandemic. 
Switzerland
Société de la Loterie de la Suisse Romande 
Supports the Fondation Mère Sofia who is helping those in need during the COVID-19 epidemic by serving 700 meals every day.
Due to financial difficulties caused by the cancellation or postponement of events, the Neuchâtel Commission for the Distribution of Profits of the Loterie Romande assured the organisers of its support. It has decided to pay the beneficiaries the full amount granted, even in the event of cancellation, reductions or postponements. More information.
Supports the Fondation Perceval which focuses its efforts on sheltering, schooling an training children and adults with disabilities. Thanks to the Loterie Romande, the foundation was able to create a training room, refurbish a building and build studios.
United Kingdom
Camelot UK Lotteries 
Camelot donated £1million to the "Computers for Kids" campaign - which aims to get laptops to lockdown pupils.
Camelot is supporting The Sun's 'Jabs Army' campaign which is calling for 50,000 volunteers to  support at vaccination sites. Camelot offers all their employees two days a year to volunteer in their Living Life Changing program.Corporate donations totalling £0.2 million to various appeals set up to aid those in need during this time.  
On 28 April, an announcement was made outlining the totality of the repurposed National Lottery funding that will be given to charities and organisations affected by the unprecedented impact of the COVID-19 outbreak in the UK - this amounts to £600 million. Funding will be for initiatives focused on combatting loneliness & isolation, providing care for the elderly, offering support for physical & mental health in the community as well as for the arts, community and charity, heritage, education, environment projects and sporting sectors.
TNL funded Innovations in Dementia has been working with people living with dementia to produce a guide designed for volunteers who are supporting people with dementia through COVID19.
TNL Heritage Fund has set up a £50 million emergency fund for British heritage sites after almost 50% said they would not survive beyond six months if the virus shutdown continues. Arts Council England has announced a £160m emergency support package to help the cultural sector. 
Sport England, funded by the UK Government & TNL, is making up to £195m of funding available to help the sport sector through the ongoing crisis.
TNL's plan for the next six months' funding in response to COVID-19 include:  
1. Offering grant holders flexibility so that they can focus on supporting their communities.
2. All the funding decisions (up to £300m of National Lottery funding) will be devoted to addressing the current crisis.
3. Accelerating the cash part of the funding as much as possible.
The National Lottery
National lottery CEO, David Stanley, funds the Music Man Project which is determined to bring music to its members throughout the community. 
National lottery funds the Star Project, a Scottish community organization delivering sustainable and positive social outcomes, which held their Burns Night celebration this year virtually. 
The National Lottery is strongly supporting charities and organisations to fight social deprivation caused by the coronavirus crisis. Total funding has already reached £600 million and addressed loneliness and isolation, provided support for the elderly and supported projects regarding physical and mental health in various communities. Funding packages span several sectors, such as arts, community and charity, heritage, education, environment and sports.