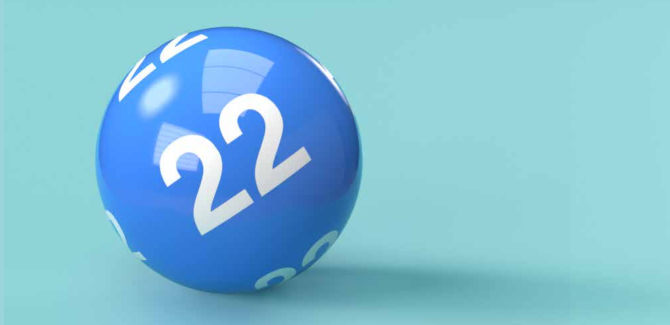 After its General Assembly held on June 17 in Šibenik (Croatia), The European Lotteries has presented its annual report over 2022.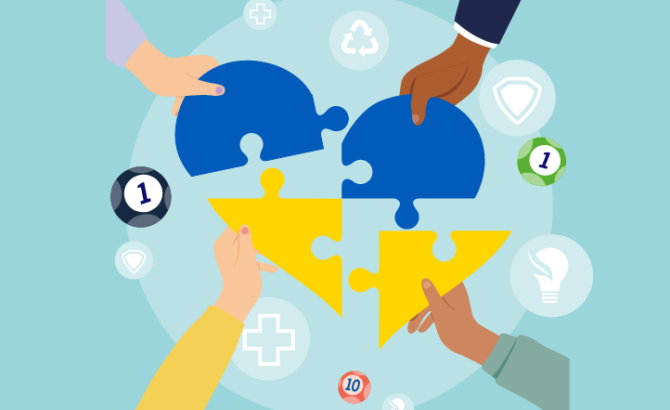 2022 War in Ukraine
Although the world returned further to normal, leaving the COVID 19 pandemic behind, a new crisis emerged – Russia's invasion of Ukraine. EL and its Members condemned, and still strongly condemn, this act of war, and stand in solidarity with its members and the people of Ukraine. EL Members acted swiftly to support the refugees from Ukraine for instance by special support programs and providing medical supplies and equipment. Bets on Russian and Belarussian sport events were not accepted as well. The EL General Assembly excluded in 2022 the EL members from Russia and Belarus.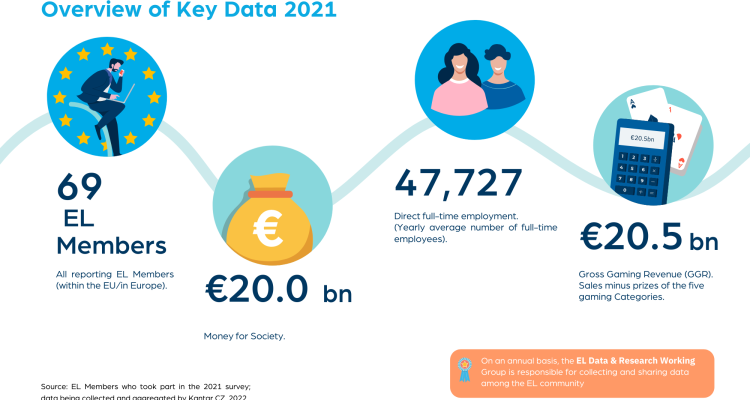 EL Members' performance
As the 2022 annual report looks also back at the performance of the EL members, based on their 2021 data, it is clear that overall national lotteries have recovered from the COVID19 impact. 2021 saw a high GGR and EL Members succeeded in continuing growing and generating revenue for good causes, all for the benefit of society, and while maintaining the highest level of integrity, responsibility and consumer protection. The contribution to society by all EL Members reporting (67 in total) amounted to 20bn EUR in 2021, an increase of 13 percent compared to 2020 and of 10 percent compared to 2019. This means that 55.6 percent of the GGR generated by EL Members (not including sponsorships) went back to society in the respective countries. All EL members together employed in 2022 almost 48.000 fte's.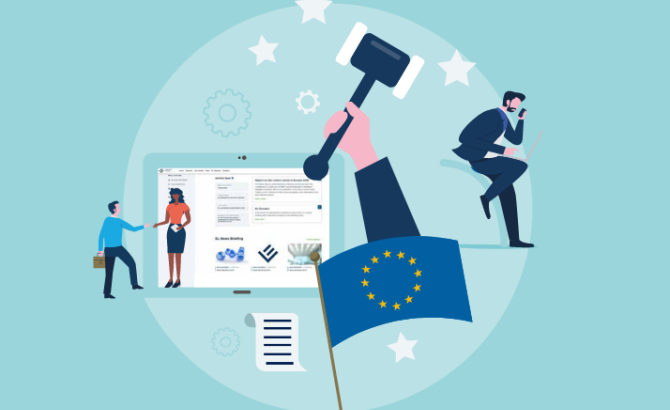 2022 Advocacy work
During 2022, the DSA and Digital Markets Act (DMA) were adopted. EL welcomed several provisions on content moderation and notice-and-action rules, which will be of use in the fight against illegal and irresponsible online gambling and gaming offerings. EL aims to strike a fine balance between deploying new technologies for purely commercial purposes and protecting consumers, players and public order. For this reason, EL and its Members called for clear guidelines on digital developments in the gambling and gaming sector.
EL continued to follow several relevant EU dossiers in 2022, including but not limited to the anti-money laundering (AML) dossier, advertisement bans, social taxonomy and gambling regulation & taxation developments. EL also followed closely the initiatives on a legislative framework on AI and two own-initiative reports of the European Parliament related to e-sports and videogaming and consumer protection were put forward in 2022, with a particular focus on loot boxes.
The Public Affairs working group organised together with the EL team an event in the European Parliament, which focused on the Digital Services Act (DSA) and AI. Representatives from the European Commission, the Czech Presidency of the Council and the lottery sector were present for a lively debate.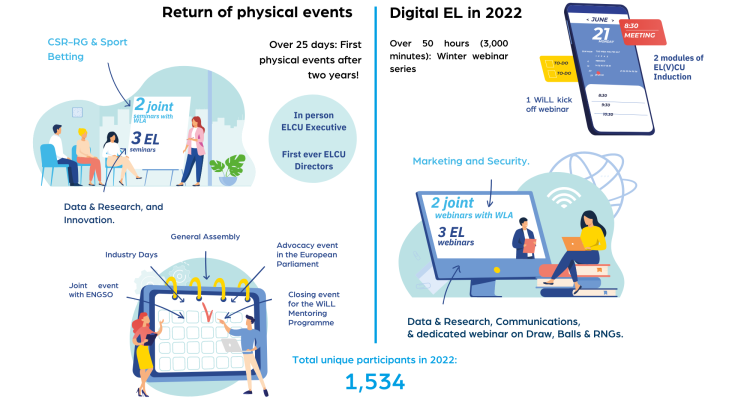 2022 - WECONNECT
After two long years online, 2022 saw the return of in-person events, with the EL Industry Days in Wiesbaden as a highlight. With the overarching theme of "We Connect", the event brought a record number of participants together. Hosting EL Member Lotto Hessen together with the EL Level 1 partners IGT and Scientific Games and the EL Team set the standards high with this events for future ones to come.
EL saw in 2022 over 1500 unique participants to their events, offline and online. Special events were the 20th anniversary of the Marketing seminar (held in London, organized together with WLA) as well as the Innovation Award that was awarded during the Innovation seminar in Milan and won by Norsk Tipping.
EL moved its statutory seat in 2022 from Switzerland to Belgium, creating even more opportunities to service its members in the future. The administrative follow up of this statutory move took more time and was of influence on the associations result.
The EL 2022 Annual Report is available here.