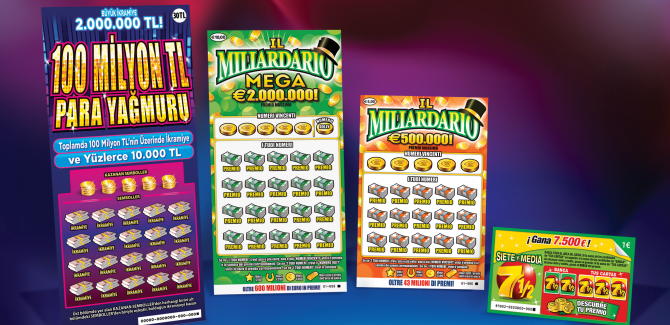 Scratching the Surface: Using Proven Methods to Fully Develop the Instant Game Category
Earlier this year EL hosted a webinar on the flourishing instant game category. Presenters covered a range of topics on the expansion of retail and digital instant game sales in Europe. The event concluded with a panel discussion featuring leading lottery suppliers from around the world.
The panel, which included representatives from Scientific Games and other providers, covered many areas but agreed on several insightful points:
Not all European lottery companies are profiting fully from the broad practical experience the suppliers could offer based on their customers' experiences all over the world.
The suppliers are more than prepared for what the future will bring, both for traditional retail and digital lottery.
What does this mean for lotteries across the continent?
It means harnessing the experience of lottery suppliers who have developed best practices for customers throughout the world over the decades. Expert suppliers enable lotteries to offer novel, engaging content to players while continuing to drive responsible growth for lotteries.
According to Kevin Anderson, VP Sales & Business Development for Europe, Middle East and Asia at Scientific Games, European lotteries have the opportunity to implement tested and proven solutions to continue building their instant game business. For example, Scientific Games Enhanced Partnership (SGEP) is a full instant category management program designed to maximize lottery profits by applying data-driven solutions for sustainable growth. The company creates products that currently generate approximately 70% of instant game retail sales globally.
"If you look at the overall economic situation of lottery products, instant games are driving an increasing share of revenue for European lotteries. Scientific Games offers a significant number of vetted, successful products and services that engage players by adding value and taking the lottery experience beyond the games in the market."
Image

Full Category Management
As the world's largest creator, supplier and services provider of lottery instant games, Scientific Games fuels lottery growth by taking a holistic approach to their customers' business. Their SGEP full category management program powers some of the largest instant game lotteries in the world, including four of the five top-performers in America. The company's instant games generate sales for 18 of the Top 20 performing lotteries in the world, with 8 of the Top 20 participating in its management program (La Fleur's 2021 Almanac, per capita sales).
While SGEP comprises all aspects of the instant game lifecycle, Anderson highlights two components of the program that he believes European lotteries could consider for increasing sales: digital engagement and licensed properties. Digital engagement, including loyalty and customer relationship management (CRM), connects with players online to enhance a lottery's customer acquisition and retention. Licensed properties empower lotteries to connect with players on an emotional level by joining games with brands consumers love. Both areas work together to help lotteries stay relevant to consumers and deliver the entertainment options that players want.
"Lotteries must modernise to ensure future growth and sustainability. Player engagement is a key part of the success of instant-game business because it creates excitement and reinforces lotteries' brands."
Image

Licensed Brands and Loyalty Bring Games Alive
One of the best ways to keep lottery relevant with consumers and retailers is with games featuring established brands that players know and love. Licensed property games help lotteries acquire new players and keep existing players engaged. Combining the brands' inherent promotional value with a customised loyalty program creates a powerful way to capture and hold player attention.
"Licensed properties represent one of the most effective ways to attract new audiences to lottery products. Players connect with these games differently than with regular games because of the unique brand equity. And few tactics deliver more loyal players when a lottery is trying to build a vibrant loyalty program."
Image

One of the most popular and enduring brands in lottery and gaming, MONOPOLY™ remains the no. 1 licensed lottery game in the world. Over 23 European lotteries have launched instant or e-instant games based on this iconic boardgame. With many different iterations of the assets, the brand has launched with highly successful versions such as MONOPOLY Millionaire, MONOPOLY Jackpot and MONOPOLY Riches. Scientific Games collaborates with Hasbro, Inc. to feature the top-selling MONOPOLY franchise, which also has been successfully paired with a number of branded loyalty and second-chance programs to excited players and extend the life of the retail instant games.
Loyalty Enables Data-Driven Decisions
European consumers are increasingly embracing their favorite brands' loyalty programs. Approximately 80% of European shoppers belong to at least one loyalty program, according to Yahoo! Small Business.
Loyalty programs enable companies to connect with customers and gain insights into consumer preferences. A 2019 study by KPMG International shows that loyalty programs are evolving: "From point-based loyalty programs, retailers are moving towards integrated and unified rewards programs, to provide personalized offers and experiences."
Understanding what players want is the first step to delivering offers and rewards that are personalized for players. Loyalty programs can help a lottery understand its players in a way that it would not be able to otherwise.
"Loyalty programs are based on players' direct behaviors. It's not what they say they do—it's what they're really doing. Lotteries are finally able to have those real conversations with the data behind it."
Image

Since 2007, Scientific Games has been creating and evolving loyalty programs specifically for lottery players. The company's Next Gen Loyalty maximizes flexibility in incentivizing players and driving specific product sales that align with lotteries' marketing plans. It is founded on achievement-based thresholds that keep members engaged with multiple promotions simultaneously.
"No matter what a lottery's budget is, they can manage it based on their needs. With achievements, we can change them daily, weekly, monthly. It's so easy to turn off and on that there's no harm in trying something."
Image

Customized Connections with Players
Sending impersonal mass emails to a lottery's entire rewards club is a sure way to make valuable customers look for the delete key rather than their wallets. Modern customer relationship management (CRM) involves sending the right messages to the right people at the right time. The most successful messages are on-brand and highly targeted to a segment of players or individuals, Warner said.
Customized messages through channels such as loyalty club apps and social media, in addition to personalized emails, help maximize the potential of a lottery's growth marketing initiatives. When the messaging is tailor-made for players it can be used to encourage them to achieve their next rewards milestone.
""Players are more likely to come back when they get that winning experience. Because of Scientific Games' deep understanding of lottery players' preferences, we can talk to them in a very personalized, custom way."
Image

For Scientific Games' success running the iLottery CRM program for one of the top 10 lotteries in the world, the company's Director of iLottery Growth Marketing, Merv Huber-Calvo, was named "CRM Executive of the Year" in the 2021 Heptagon Awards for Digital Marketing Excellence by Optimove. Huber-Calvo was recognized for helping push the lottery's online/mobile sales to $1 billion (USD) in less than two years. In addition to iLottery, the customer uses SGEP throughout all areas of its instant game business.
Preparing for the Future
Though the EL Webinar panelists agreed there is no danger of scratch cards going extinct anytime soon, there are opportunities to cultivate the entire instant-game ecosystem. As lotteries in Europe look to expand their instant-game business, incorporating tested methods such as licensed properties and loyalty programs can help acquire new players and gain insights into their customer bases. Applying the best practices that have been developed and refined around the world can equip European lotteries to maximize returns from instant games.
The MONOPOLY name and logo, the distinctive design of the game board, the four corner squares, the MR.MONOPOLY name and character, as well as each of the distinctive elements of the board and playing pieces are trademarks of Hasbro for its property trading game and game equipment. © 1935, 2021 Hasbro. All Rights Reserved. Licensed by Hasbro.
© 2021 Scientific Games Corporation. All Rights Reserved.
EL Instant Games webinar 2021